August 21st, 2017 is a day I won't soon forget.
In the months and weeks leading up to the now famous date, I didn't really feel anything.  Sure, an eclipse is neat.  I've seen pictures.  I recall seeing a solar eclipse as a child in my backyard (1994, I think).  I'd even driven a few hours north of my old town in California to see the annular eclipse of 2012.  I took photos through a hastily assembled filter made of a pair of perpendicularly arranged polarized sunglasses.  It was neat.
When it happened, the land grew dimmer for a few minutes and there was a noticeable chill in the air.  It was still nearly full daylight, however.
That's what happens with an annular solar eclipse.  The moon passes completely in front of the sun during totality, but because the moon is at a more distant part of its orbit, it is not apparently large enough to completely block the disc of the sun, leaving behind an annulus.  Like I said before, it was neat.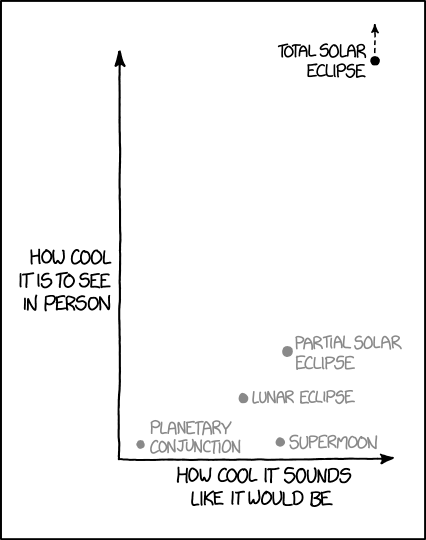 A total solar eclipse is something else entirely.  The event that happened on August 21st had been predicted for decades, if not centuries, and as the date approached, hype and eclipse-mania began to build.  Normally I don't buy into hype.  Too many things these days are sensationalized in the media, resulting in dilution and an unnecessary increase in expectations.  There are few things that ever seem to live up to the hype surrounding them.  I thought The Force Awakens was pretty good.  I enjoy Game of Thrones, but Jesus pump the brakes a little, people.  I cannot say enough about Hamilton.  I don't know where I thought the eclipse lay on the spectrum from over- to under-hyped, but evidently I thought enough about it to justify taking a day off from work and driving nine hours into Nowhere, Oregon to see it.
And that's exactly what I did.
To prepare for my sudden compulsion to be in Oregon on a fateful Monday morning, I took a page out of my own book.  It had been over four years (!) since I last drove myself north of the border.  No, it definitely doesn't feel like it's been that long.  Naturally, I've camped in my car since then — a few nights in L.A., at rest stops on I-5, and most recently during a stargazing expedition up the north coast a couple Labor Days ago.  The essentials for a successful sleep in the back of my car are pretty simple: a stack of pillows, a set of blankets, ear plugs, a sleep mask, and correct positioning.  Also working windows.  I had to fix those before I left.
As for the purpose of my quest, I did a fair bit of research.  As I have only a point-and-shoot camera, I needed to devise a way to filter the sun enough to be able to take sharp photos without destroying my sensor.  Before I used sunglasses.  It worked, kind of, but as you can clearly (or unclearly, as it were) see in the composite, the focus is just not there.  I looked into SLR filters and found mixed results, ranging from prohibitively expensive, to cheap and bad.  Luckily, a deep dive into photography forums unearthed some cheap and well-reviewed 58mm filters by Altura photo.  Like before, I would need to hold them in front of my camera.  Don't forget the tripod.
I also needed a chair, so I snatched one from Home Depot.
Finally, the big one: the drive itself.  I over-prepared my car, having it fixed and serviced (and I even washed it) before setting out.  Snacks and food were in abundant supply in my cabin, so much so that I only stopped for dinner once on the way home.  I had all my electronics' power needs satisfied, spare clothing, emergency items, and even entertainment to keep from potential boredom.  But the most important thing of all concerning the drive was, naturally, where the heck I was going.
The first thing I thought to do when planning my destination was open Google Maps to find a town within totality.  Madras, Oregon seemed a good candidate — right along the center line, and just up US-97.  Convenient!  Indeed, it was so convenient that they were hosting an official NASA event and over 100,000 people were expected to attend.  Okay, let's not go there, I said hipster-ly.  I spent a few hours combing over the rural expanse of Central Oregon just south and east of there.  Anywhere farther and I'd add a chunk of time to my return trip.  Prineville, Oregon seemed less popular, yet still within totality.  I searched for rest areas, locating one half-an-hour up the road at Bandit Springs.  It was small and I feared it would be clogged with transients who'd had a similar idea.  A good back-up plan, I suppose.
The place I settled on for the eclipse was somewhat of a miracle find.  As I looked across the land, I found a hiking trailhead halfway between Prineville and Madras within open land.  The roads to it were dirt, and from everything I could find, were also public.  I remained skeptical though; what if they were closed for this?  Also, was it permissible to camp there?  What if a forest ranger stumbled across my car at 2am?  What if it was all perfectly fine, but there were hundred of people there already?  I couldn't be the only person to find this place.  My mind was an anxious mess.
All of this worry for a stupid eclipse.
I couldn't think about anything else the week before.  My Saturday was useless.  I spent the morning doing final preparations for the trip, but finished them before 10am, so I spent the rest of the day just… waiting.  I decided to leave at 3:30am on Sunday morning to get ahead of the theoretical northbound traffic and because I was tired of waiting.  Getting to sleep was difficult.  Waking up was easy.
With the car already packed from the night before, I set out on the San Francisco streets.  I queued up my driving playlist, shuffled by albums.  The first song to come up:
I can only listen to this song in pairs.  A rewind is compulsory.
As it turns out, traffic at 3:30am in the Bay Area is light (for once).  There were absolutely no issues.  I had breakfast in the car.  Sunrise occurred near Redding, California at 6:30am.  A red sun through smoke — it reminded me of India.  The haze was unrelenting, evidently the result of numerous forest fires in the area.  I filled up the tank in Weed.  I couldn't see Mt. Shasta.  I stopped to watch a train pass along US-97.  Oregon was closer than I remembered.  I turned toward Crater Lake, hoping the smoke would clear before I got there.
It didn't.  Same as last time.  Still, the water below remains the bluest blue I've ever seen in nature.  The smoky photograph can't do it justice.  I strolled along the rim for a few minutes.  It was a beautifully sunny morning, just before 10:30am when I arrived.  There were already a ton of people there, and I wondered with how many of them I would be competing for eclipse real estate.
I ate a quick lunch there under the sun and headed out.  It had only been forty minutes, but I reasoned that gnarly traffic awaited me if I didn't get a jump on the day.  It was still another three hours to my destination, Bandit Springs.  I figured I should take a chance on the rest stop, if only for the facilities available.
I ran into a traffic jam near La Pine, one of the only places within my route on US-97 with a signal.  It was the only jam of the day.  The roads were still surprisingly clear through Bend, Redmond, and Prineville, the latter of which was very clearly experiencing above average traffic (read: a few cars rather than zero).  Another gas fill-up (no self-serve!) and I pushed up along the road toward Bandit Springs within the Ochoco National Forest.  Signs and cones along the road denoted private properties and NO ECLIPSE PARKING.  There was eclipse stuff everywhere.  Merch, events, RV campgrounds; it was weird.  As I entered the forest, I noted that the US Forest Service roads were open, and down some of them I'd noticed campers.  A good sign, though this particular area wasn't much for views of the sky.
I happened upon Bandit Springs a surprisingly long time later.  The thirty-minute drive through the forest felt far longer than it should have.  There, at the rest stop, were a handful of cars and folks at picnic tables, but plenty of open space for parking.  Nice.  I thought it wise to stake a claim there, so I parked my car and briefly found ways to entertain myself.  Feeling the weight of the long day upon me, I elected to take a nap.  It was mid-afternoon already and the sun was bearing down on the side of my car, so I rigged up one of my blankets across the windows, ventilated the others, and made myself comfortable.  I got maybe an hour of good sleep out of it.
When I awoke, I was horrified to notice that there was no cell service there.  I made a rash decision to venture out in search of service, driving twenty minutes east to Mitchell, Oregon, a tiny almost commune-like town full of hippies and campers and, I guess, locals.  No service.  I turned back to the west.  Forty minutes later, and nearly back to Prineville, my LTE was re-established long enough to download reading material and prolong my Duolingo streak.  By the time I returned to Bandit Springs, it had been a nearly ninety-minute-long excursion.  Thankfully, there was still a spot for me there.  I ended up settling in, exercising my patience, and slowly watching the evening turn to night.
Speaking of Game of Thrones, thank goodness for leaks, am I right?
Before bed, I took some time to gaze at the stars.  Only a few times in my life have I been in a location so dark.  As I lay in my car looking up, I felt the strangest feeling — that I was looking down upon a vast starry expanse below, prevented from falling into it by the hold of Earth.  Up had become down for the briefest of moments.  It was honestly a little bit terrifying.
Sleep came easy under the stars.  A woke up at 3am feeling just about fully rested.  Looking around, I saw that the rest area had completely filled up with travelers.  My anxiety took over, and, while I'd justified my current whereabouts as a fine location from which to observe the eclipse, I just had to try my original plan.  In the total darkness, I started up my car, blasted my headlights, and drove out into the void.
In an hour, I came upon my lonely forest service road.  I passed a few campers by the entrance.  A decent sign, I suppose.  I elected to pull my car off to the side as soon as I found a place to do it.  Turns out, it was the most perfect spot I could have hoped to find.
I'd still had an hour of darkness remaining, so I more liberally cracked open my windows, curled back into my blankets, and went to sleep.
I awoke to find a few folks had begun to populate my area.  I didn't care.  I'd made it.  I breathed the fresh mountain air, looked upon a perfectly clear blue sky, and awaited the sun rise.
I took a moment to test my solar filters, to find the most effective combinations of ND2, ND4, and ND8 filters, along with my polarizer and UV filter.  I ended up with an orderly stack of the six filters to hold and swap as the eclipse went on.  They were slightly tricky to get a supremely sharp shot out of, but again, it was far superior to the sunglasses of yore.
The morning continued.  More folks arrived in the vicinity; smart folks, these were.  Equipped with my Eclipse Timer app (thanks, SmarterEveryDay!) I was able to follow the event from first contact until the end, down to the exact second.
It started at 9:06:36.  The moon appeared as a dimple cut out of the side of the sun, and slowly grew over the course of the following 70 minutes.  The sun turned from Death Star, to Apple Logo, to crescent.  I shot several photos every minute, settling on the best settings and producing multiple takes for clarity's sake.  It went well, albeit momentarily frustratingly at each stage.
The sky began to dim; the clear blue lost its vibrance.  The dirt and shrub covered land slowly faded in contrast.  It wasn't until nearly halfway before totality that it became noticeably colder.  The brightest stars started to show themselves through a still light sky.  This experience was nothing new to me.
Within ten minutes of totality, things began to change dramatically.  Shadows became fuzzy; straight lines turned to crescents.  Birds took off heading… somewhere.  Ambient temperature fell sharply.  Minutes felt shorter than even before.  My app was going nuts.  The people nearby became audibly excited.  I split my time between snapping photos and looking around.  What was happening was unbelievable.
The sun gave one last shine as the disc of the moon crossed in front. At 10:19:46, I was stunned.  The land suddenly became as dark as twilight.  The sky above glowed a perfect deep blue, dotted with the stars.  And to the east: one of the craziest f#?king things I've ever seen.
Against an ultramarine backdrop floated a ring of white fire, its center pitch black.  At the horizon, the colors of sunset.  In every direction.  The air inside the umbra was cold.  It didn't feel real.
I shot photos of totality.  I pointed my camera to the horizon.  I sat back and marveled.  Holy shit.
It wasn't long enough.  Max eclipse occurred after only 50 seconds.  Another 50 seconds later, sunlight peaked through once more, and I snapped what I consider one of my finest photos ever.
As day returned, the reality of what was just witnessed hadn't even begun to settle in.  One minute and forty seconds burned into my memory, yet somehow I still don't believe it.
The umbra retreated toward the eastern horizon.  With the sun now in a waxing crescent, some of my neighbors had begun packing for Eclipxodus.  I wasn't leaving yet.  This journey I'd set out upon 31 hours earlier could tolerate another hour, even with the ultimate reward now behind us.  Besides, it was a beautiful day in Central Oregon.
There isn't much else to say here.  The eclipse proceeded exactly as it had begun, in reverse.  The air warmed and the land and sky were restored to their normal brightness and color.  I stayed until fourth contact, at 11:41:14; 155 minutes after it had started, the moon had moved on, and now it was my turn.
I packed up my equipment, queued up my music, and set off down the rural roads.  There were cars in front of and behind me, but we were moving.  I stopped at a Wal-Mart to grab water.  Waze directed me to avoid US-97 upstream of Bend.  I crossed US-20.
When I got to Bend, traffic stopped.  My ETA grew by 10, 20, 30 minutes.  Voraussichtliche Zeit im Stau etwa sechsunddreißig Minuten.  The estimated time in traffic didn't go down.  Before I knew it, I was over an hour behind schedule.  Each small town in Oregon was a bottleneck.  Sun River, La Pine, Gilchrist/Crescent, Chemult; each went at a slightly faster crawl than the previous. The stretches of road between them were 75 mph half of the time, and 10 mph the rest.  I expected this.  It wasn't until passing OR-138, the road to Crater Lake from the north, that things moved smoothly.  I gassed up at Klamath Falls and enjoyed the sunset down the final stretch of US-97.  Yes, sunset. I'd set out from Prineville at about 12:15pm, but I didn't get out of Oregon until 5:45pm — an over two-hour delay compared to typical traffic.
Naturally, there was one last annoyance — a construction bottleneck on I-5 near Weed.  No doubt, the two lanes here are able to handle regular Northern California traffic, but not on this day.  At least as we weren't moving I could look up at the majestic volcanic cone of Black Butte just off the freeway.
Having already spent seven hours in the car by the time I hit the mountains, I was shocked how much I enjoyed driving through them.  That stretch of I-5 is beautiful, and in this direction, entirely downhill. Even still, finally crossing the Pit River Bridge at Shasta Lake felt like a relief.  Besides, I was getting hungry and Redding, my dinner destination, was so close.
I ate Five Guys in my car.  These were the burgers I was looking for.  By now it was night.  My drive, much like the eclipse, had become the previous day's drive in reverse.  Having exhausted my music playlist twice over, I put on that days' Comedy Bang Bang podcast in an effort to keep me laughing, and therefore awake.  I-5 is a slog.  It felt like I'd never get home.  My ETA was just before midnight now; my drive-time expected to total over 11 hours.
I rolled into San Francisco at 11:30pm.  I love crossing the Bay Bridge, even during traffic, yet at night with few cars on the road and the city shining in front of me felt almost magical.  My city.  After two days in the middle of nowhere, among dilapidated towns and soul-numbingly empty spaces, I was grateful to be back among civilization.
It was 12:03am when I got to my house.  I unloaded the car, took a shower, and fell into bed in ten minutes.  My quest was complete.  I was groggy for the next two days.  I didn't catch up on sleep until Saturday.  Was it worth it?
Yes.  Holy shit, yes!  A total solar eclipse is a mind-altering, life-changing wonder that needs to be seen and experienced first-hand to be believed.  My words don't do it justice.  My photos don't capture the majesty.  You need to be immersed, to allow yourself to be overwhelmed by the cosmic display in order to really understand.  You may have read or seen many, many folks talking about how absolutely amazing this experience was — they're all 100% correct.  This is something that cannot be over-hyped, whose expectations deserve to be sky high.
If you have a chance to see a total solar eclipse in your lifetime, take it.  I'm extremely happy that I did.